Monitor-recorder PIX E5 Video Devices
Features PIX E5 Video Devices:
Ultra bright full HD touch screen.

TapZoom ™.

PIX-Assist ™ Monitoring Tools.

4K recording.

Apple ProRes 4444 XQ, 12-Bit.

Buttons for quick touch control.

Metal chassis

Gorilla® Glass 2.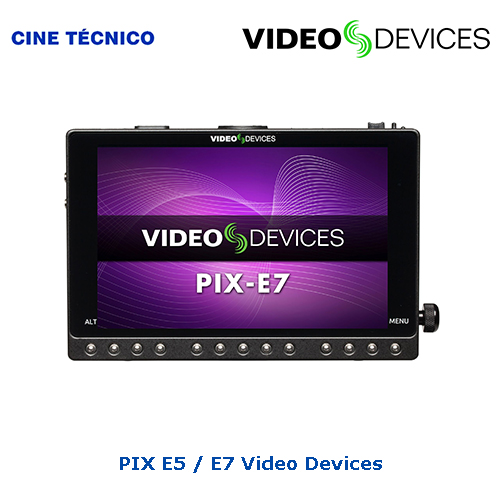 PIX E7 Video Devices – Features:
Monitor, recorder, waveform monitor and vectorscope.

Size: 7 "

6G-SDI HDMI ProRes 4K

Resolution: 1920 x 1200

TOUCHSCREEN DISPLAY

Recording: DCI 4K (4096 x 2160) up to 30 fps 1080p up to 120 fps

ProRes 4: 2: 2 and 4: 4: 4 Encoding

Use mSATA SpeedDrive Media

4K-Capable HDMI Input with LOOP-THROUGH

Connections: 2x SDI Inputs, 1x Loop Output

Sound: Analog Auio Input

PHYSICAL BUTTON

JOG-DIAL CONTROLS
The PIX-E5 includes a whole set of tools such as the TapZoom, to focus at a speed never seen before, false colors to help determine exposure and guide marks for framing. It can also withstand the most inclement conditions of recording, as it is protected by the rugged Gorilla Glass 2. With the press of a button or a simple touch on the touch screen, the impressive set of functions available on the PIX-E5 provides monitoring functions , in addition to all the colorimetry and exposure tools, necessary in any production.
The PIX-E5 is the first monitor that offers Apple's entire range of ProRes codecs, including the highest quality Apple ProRes 4444 XQ. This is a 12-bit codec designed to preserve detail in images, with wide dynamic range captured by high-performance digital image sensors. Files are recorded directly to the removable mSATA drive.
With a compact metal chassis, a scratch-resistant LCD screen, and optically joined by Gorilla Glass 2, the PIX-E monitor is designed to work in extreme and demanding production environments.
With regard to SpeedDrive, it is a unique accessory that works with the PIX-E series. When connected to the back of the monitor, the USB 3.0 interface of the SpeedDrive automatically switches to the SATA interface, more convenient for recording 4K video continuously.
Another advantage is that when you finish recording you do not need any special card reader, it simply disconnects from the back of the PIX-E and connects to any USB port to transfer the data via USB 3.0
Compact and powerful, the 7 "PIX-E7 4K recording video monitor from Video Devices can record 4K video via HDMI and 6G-SDI on SSD SpeedDrive. Not only is the PIX-E7 a powerful recorder, but also It has a 7 "built-in 1920 x 1200 resolution touch screen to monitor the frame, verify focus and display scopes. Video Devices designed the PIX-E series of recorders to be compact, so you can use them with small cameras and camcorders without overloading them.

The firmware update v3.00 also adds the ability to simultaneously record a ProRes 4K (MOV) file ready for SpeedDrive editing and an H.264 1080p (MP4) file on an SD card. This is useful for newspapers and other applications. If you have an active LUT during simultaneous recording, it will be integrated only in the H.264 file and will not affect ProRes recording. This allows you to record a ProRes master file for editing and a Rec.709 H.264 file for customer viewing. 4K scale reduction to 1080p occurs automatically during simultaneous 4K / 1080p recording. The update also allows H.264 recording with a time code stamp on the SpeedDrive and / or SD card.

As a subsidiary of Sound Devices, Video Devices also implemented some professional audio features. In addition to being able to record audio from digital video connections, the PIX-E7 has analog audio inputs in the form of 3.5 mm connectors. To expand the professional audio capabilities of the PIX-E7, an XLR audio mixer available separately with meters can be screwed into the 1/4 "-20 threaded bottom hole.