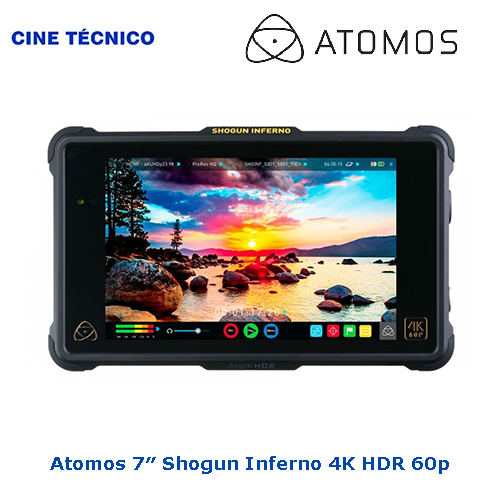 Monitor/Grabador Atomos 7″ Shogun Inferno 4K HDR 60p
Monitor/grabador de 7″ de pantalla táctil y resolución 1920×1200 4k 60p. Con la última tecnologia en el monitor 1500nit / 10bit / HDR y la última capacidad de grabación – 4K 60p SDI. Salida en resoluciones de hasta UHD 4K (3840 x 2160 píxeles) a 60 fps en codecs Apple ProRes y Avid DNxHR.
Dispone de entrada y salida de 4K HDMI y 12G-SDI y 2 de audio XLR. Además de una toma de auriculares, Genlock / LTC (BNC) y LANC 2,5 mm.
Shogun Inferno combina el galardonado monitor HDR de alto brillo con la grabación de alta resolución y alta velocidad de frame. Ha sido diseñado para las cámaras de cine digital líderes del mercado mundial con conexiones QuadLink SDI y HDMI 2.0 que permiten grabar vídeo 4K 60p (HD 240p*), RAW a CinemaDNG* 4K 30p y RAW 4K 60p a ProRes/DNxHR*.
Features Atomos 7″ Shogun Inferno 4K HDR 60p :
 Pantalla táctil 7,1″ IPS

Resolución 1920 x 1200 325 ppi

Entradas HDMI (2.0), 3G-SDI Groped/Single 12G-SDI (BNC) (x4), Genlock / LTC (BNC), 2.5 mm LANC y XLR (x2)

Salidas HDMI (2.0), 12G-SDI (BNC), XLR (x2) y auriculares jack 3.5 mm

Señal de entrada y salida sin compresión 4:2:2 10/8bits
Medidas 21.4 x 12.7 x 4.5 cm

Peso 1,09kg (Con baterias y SSD)

Formatos soportados 4K (2.5″ SSD) / HD High Frame Rate (50/60/120p): 2.5″ SSD & 2.5″ HDD (7,200 rpm and up) for 1080p 50/60 / HD (30p and less): 2.5″ SSD & 2.5″ HDD (5,400 rpm and up)
Monitor/Grabador Atomos 7″ Shogun Inferno 4K HDR 60p.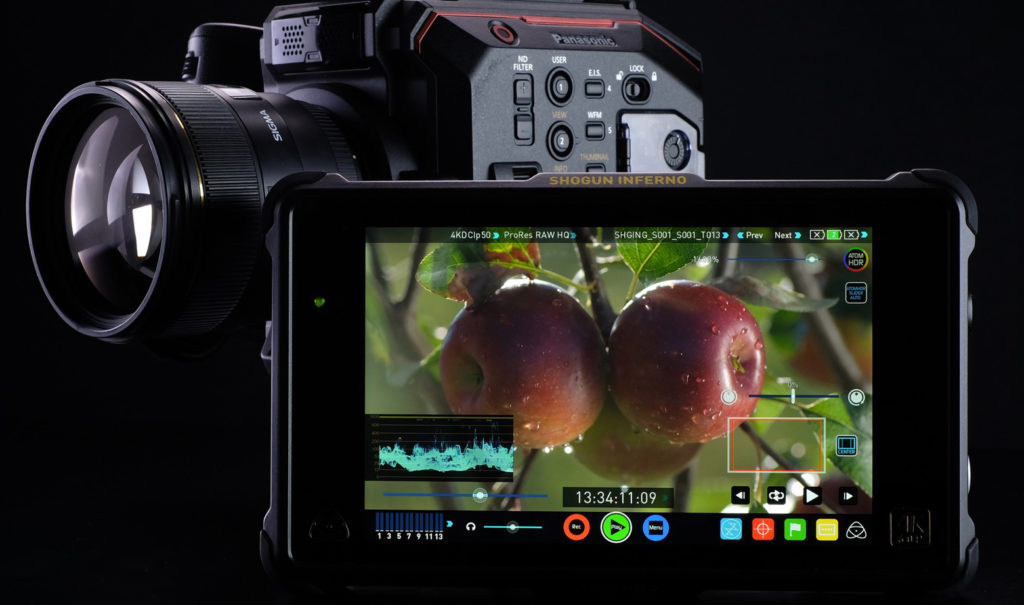 Filma lo que ves
El procesador de imagen AtomHDR te permite filmar con el amplio rango de brillo del perfil Log de tu cámara manteniendo los colores vivos reales en la monitorización. Los monitores convencionales carecen de esta capacidad, mostrando el detallado brillo del perfil Log pero con una imagen lavada que hace complicado evaluar la exposición de la toma.
Pásate al lado de la revolución HDR con un monitor de campo capaz de mostrarte en filmación lo que verás más tarde en postproducción.
1500nit 10-bit
El panel de 10-bit permite mostrar más colores (1070 millones de colores frente a los 16,7 millones de un panel de 8-bit estándar) ue aseguran transiciones de color suaves en tomas tanto de Alto Rango Dinámico (HDR) como de rango dinámico estándar (SDR). Los 1500NIT del panel acercan el HDR a la vida real, acentuando las escenas de alto contraste. Con las escenas SDR, puedes usar el deslizador de brillo para aprovechar los 1500NIT de la pantalla para monitorizar en exteriores sin necesidad de visera o parasol.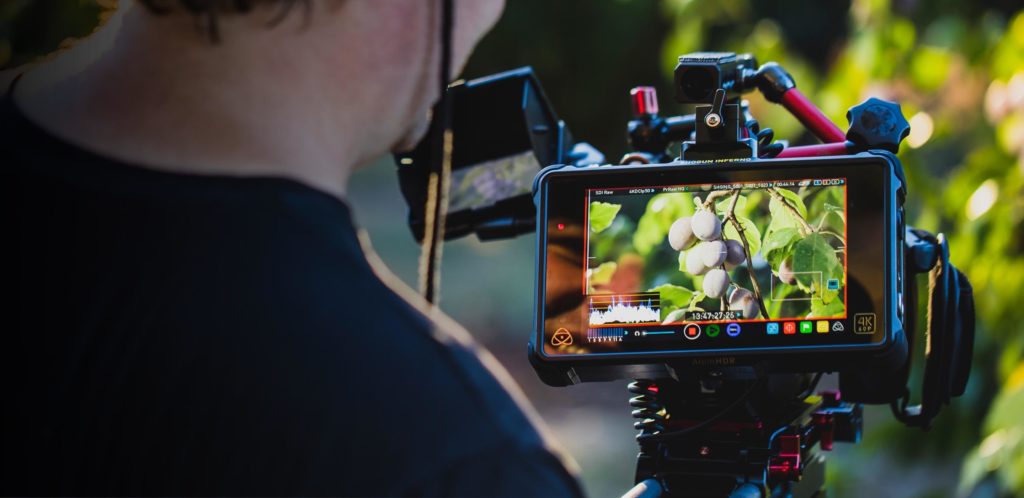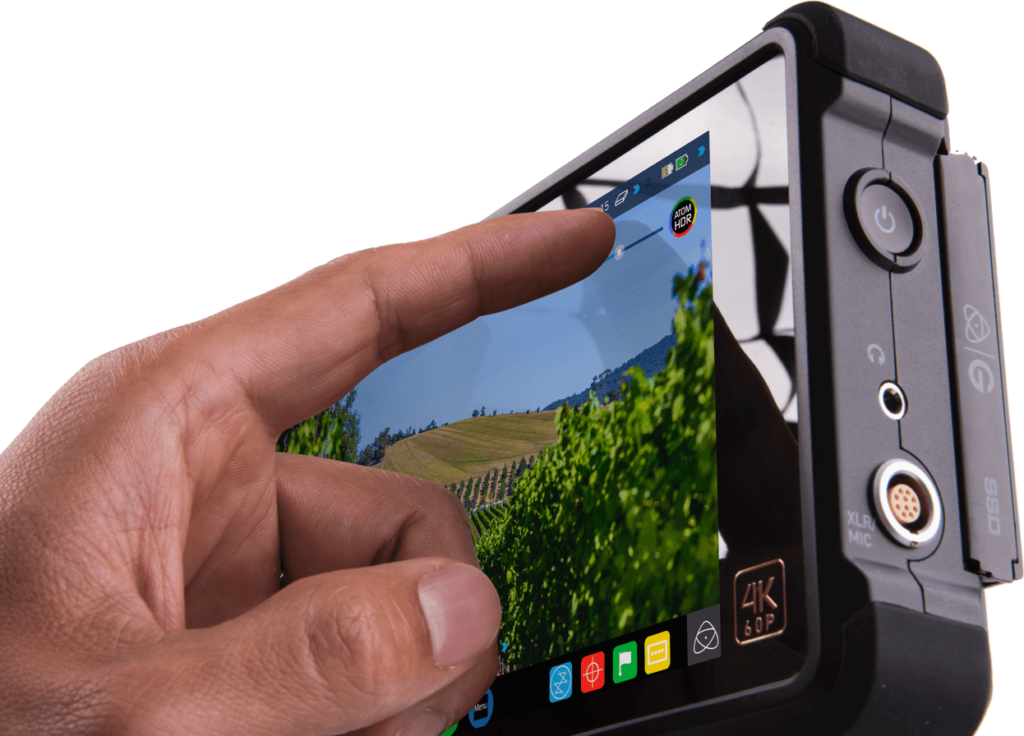 Entrada y salida PQ y HLG
El motor AtomHDR no solo te permite establecer la exposición perfecta en campo, también puedes tener una salida HDR en los estándares PQ y HLG* en pantallas HDR compatibles o aceptar una entrada HDR desde tu ENL si necesitas un monitor de corrección de color portátil.
Log y Raw sobre QuadLink SDI
Las conexiones* QuadLink SDI ofrecen la más amplia compatibilidad con entradas SDI 1.5G/3G/6G/12G y una salida 12G SDI. La grabación RAW* de cámaras Arri, Sony, Canon y Panasonic proporciona funcionalidad 4K no disponible en algunas cámaras, mientras que también ofrece una solución más asequible en terminos de costes de los medios de grabación.
*Diponible en futuras actualizaciones de firmware.


Sistema operativo sencillo
Su flexible SO está repleto de una extensa gama de ámbitos, todos a una pulsación de distancia y muy fáciles de usar. El sistema operativo de vídeo incluye herramientas para enfocar, encuadrar y exponer junto con una flexible implementación de 3D LUT (puedes usar los LUTs incorporados o cargar archivos .cube) y opciones para corregir la adaptación de contenido anamórfico.
GRABACIÓN 4K60P Y HD240P
Graba vídeo desde cámaras HDMI y SDI directamente desde el sensor a ProRes o DNxHR 4:2:2 de 10-bit hasta 4K60p o HD240p*. Graba RAW sobre SDI* hasta 4K30p ya sea directamente en CinemaDNG o en ProRes oDNxHR. Reproduce los archivos grabados en ProRes o DNxHR sobre las salidas HDMI o SDI en frame rates de alta velocidad sobre monitores soportados.
*Diponible en futuras actualizaciones de firmware.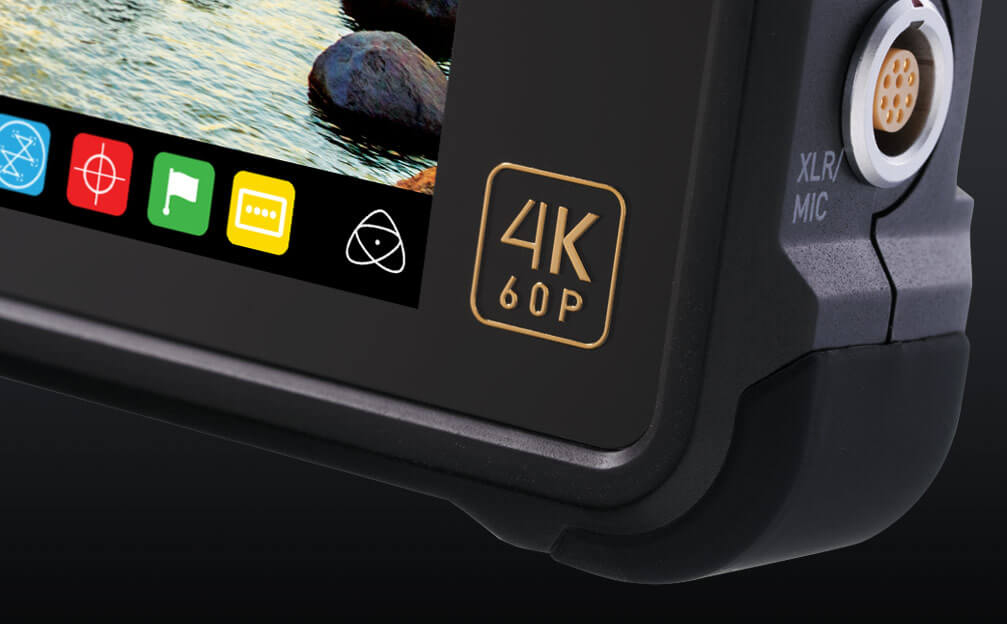 Portable Playback Deck
The ultimate battery-powered playback deck, review and playout footage anywhere – scrub through, jog frame-by-frame and even watch back in slow motion. Metadata tag footage as you go to mark favorites, rejects and more. Bring your footage into your timeline and immediately filter your tags.
Características técnicas:
Entradas

1 x HDMI in 2.0
4 x 3G-SDI Groped/Single 12G-SDI (BNC) –
1 x Genlock / LTC (BNC)
1 x 2.5 mm LANC
2 x XLR con cable Breakout LEMO incluido

Salidas

1 x HDMI (2.0)




1 x 12G-SDI (BNC)




2 x XLR Out (cable LEMO breakout incluido)




1 x 3.5 mm audífonos

Formatos (importante)

HDMI:
2160p 24/25/30/50/60
1080p 24/25/30/50/60/120/240
1080i 50/60
720p 50/60

SDI:
2160p 24/25/30/50/60
1080p 24/25/30/50/60/120
1080psf 24/25/30
1080i 50/60
720p 50/60 

Encoding

DCI RAW 4096×2160 desde camaras compatibles: Sony FS700, Sony FS7, Canon C300 MKII, Canon C500 (revisar upgrades) :
Apple ProRes HQ, 422, LT
DNxHR HQX, HQ, SQ, LB

UHD 4K (3840 x 2160):
Apple ProRes HQ, 422, LT
DNxHR HQX, HQ, SQ, LB

1920 x 1080
Apple ProRes HQ, 422, LT
DNxHD 220x, 220, 145, 36

Pantalla Touch Screen

7.1″  1920-1200  325 ppi  Color REC709  Super Atom IPS  48-60Hz

Remote Start / Stop

HDMI start/stop flags (Canon, Sony, Panasonic, Nikon y JVC)

SDI trigger desde Cámara

LANC Control

Timecode

N/A

Futuro Upgrade disponible

12G-SDI 4K 50/60p Support




Apple ProRes HD 4:4:4 10bit




3D LUTs




FS700 RAW decode




Full 4K – 4096 x 2160 support

Consumo

Hasta 3 horas con 2 baterias incluidas

Baterias

6.8 a 11W




Compatible con 7.2V – 14.4V : 5200mAh – hasta 5 horas 

Operación contínua

N/a

Construcción

High quality lightweight ABS Polycarbonate




Heat pipe cooling technology

Dimensiones

196cm x 110cm x 47 cm

Peso

Con bateria y Disco HHD :   1.09 Kgs