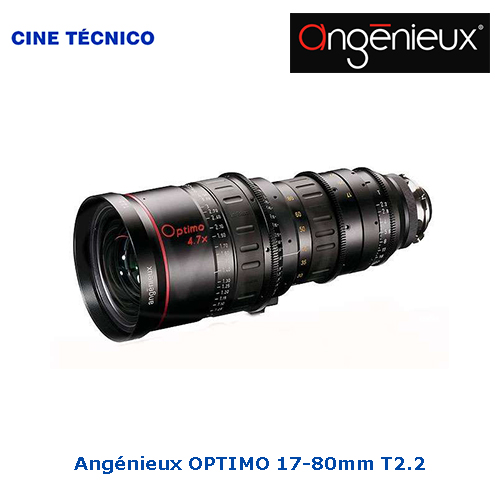 The Angénieux 17-80mm Optimo lens features an optical design that eliminates "breathing" and "ramping," and offers superior levels of optical performance throughout its zoom range.
The Angénieux 17-80mm Optimo zoom weighs 12.1 pounds with a front diameter of 136 mm and a focus close to 2 '.
This lens produces impressive contrast and color reproduction that rivals the highest performance main lenses.
The Angénieux 17-80mm Optimo wide angle zoom blends perfectly with the Optimo 24-290mm.
Features Angénieux OPTIMO 17-80mm T2.2:
Focal Length Range : 17mm to 80mm

Image Coverage

Diameter : 28mm

Min. Aperture : T2.2

Front Diameter : 136 mm

Length : 325 mm (12.8″)

Weight : 5.5 Kg (12 lbs)

Minimum Object Distance : 610 mm (24″)


Lentes Optimo 35mm
The Optimo 17-80mm and 24-290mm are industry standard lenses that accompany shooting around the world. The newly introduced 19.5-94mm and 28-340mm lenses, derive from the same design and offer image coverage up to 31.4mm ideal for 5K cameras and S35 productions. Each of these lenses minimizes breathing and achieves an optical performance that rivals 'prime' lenses in equivalent focal lengths.
Available with PL mount (PV mount on request). Additional specifications include:
– Focal lengths: 17-80mm, 19.5-94mm, 24-290mm, 28-340mm
– Fast openings: T2.2, T2.8, T2.8, T3.3
– Weights: 5.5 kg, 5.6 kg, 11 kg, 11.1 kg
– Focus rotation 327-329 degrees with 50-70 focus marks
– Image coverage up to S35 + or 31.4mm diagonal
– Superior contrast and color reproduction