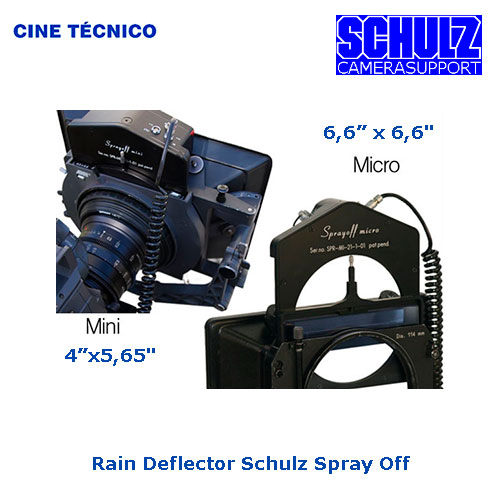 Sprayoff mini (4" x 5,65″)

The advantage of all Sprayoff (mini included) can be shortlisted as follows:
– All of them fit within its specific matte box, taking only the space of the front filter holder.
– All are lightweight (Sprayoff micro: 500 gr., Sprayoff milli: 850 gr., Sprayoff mini: 980 gr.)
– All of them can be powered out of the camera with 24V if available, since the power consumption is not higher than for a regularly used onboard monitor (Sprayoff micro: 0,3 amps., Sprayoff mini: 0,8 amps., Sprayoff milli: 0,7 amps.)
– Easy and very fast setup by sliding in and "plug'n play".
– Large optical width to cover even wide-angle lenses following disc diameters: Sprayoff micro: 118mm, Sprayoff milli: 144 mm, Sprayoff mini: 169 mm.
 Rain Deflector Schulz Sprayoff Mini:
Key Facts:
– Weight: approx. 1,0 kg
– Disc diam.: 169 mm
– Disc speed: approx. 3.500 rpm
– Power supply: 24 V
The Sprayoff Mini has been conceived for rain and snow.
For use in the ARRI LMB-4, MB-14, Bright Tangerine Strummer DNA 6″, Blacklight and Panavision MBCB.