ARRI/ZEISS Master Prime lenses have been jointly developed by ARRI and ZEISS. Both are fast and have superior optical performance than all standard speed cousins. Master Prime lenses open new creative opportunities for filmmaking.
They are exclusive high speed lenses with an unprecedented resolution. Practically breathless. Patented Dual Floating Elements technology eliminated breathing in Master Prime lenses
ARRI/ZEISS Master Prime lenses offer excellent optical performance across the entire T-stop range from T1.3 to T22
Uniform iris positions and focus gears
Built-in lens data system (LDS).
THE SET INCLUDES THE FOLLOWING OPTICS
 18mm Master Prime T1.3

 25mm Master Prime T1.3

 32mm Master Prime T1.3

 40mm Master Prime T1.3

 50mm Master Prime T1.3

 75mm Master Prime T1.3
OTHER OPTICS AVAILABLE FOR RENT
 14mm Master Prime T1.3

 16mm Master Prime T1.3

 21mm Master Prime T1.3

 27mm Master Prime T1.3

 35mm Master Prime T1.3

 65mm Master Prime T1.3

 100mm Master Prime T1.3

 135mm Master Prime T1.3

 150mm Master Prime T1.3
ARRI ZEISS Master Prime – FEATURES:
Unique high speed prime lenses with unprecedented resolution

Basic set: 18-25-32-50-75mm
Extra Focal: 14-16-21-27-35-65-100-135-150mm

MOUNT: PL

Opening: T1.3

Front diameter: 114mm | 134mm

Focus ring rotation: 280º

Sensor Coverage: Super 35

No geometric distortion

Weight: 2.2Kg | 4kg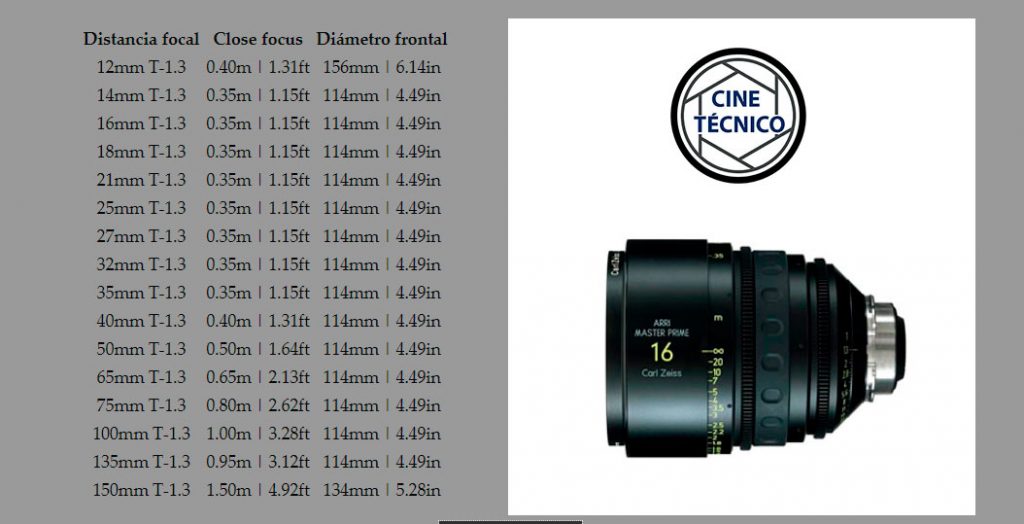 ARRI / ZEISS Master Prime
ARRI Zeis Master Prime T1.3 optics are spherical lenses, high speed fixed focal lenses. When Roger Deakins in a talk in London someone from the public asked why he chose to always shoot with Master Primes, he replied: "They are fast, light and have an excellent definition, so there is really no other choice." They have been awarded the scientific and engineering award by the "Academy of Motion Picture Arts and Sciences.

The complete set contains the following focal points: 14mm, 18mm, 21mm, 25mm, 27mm, 32mm, 40mm, 50mm, 65mm, 75mm, 100mm, 135mm and 150mm with a maximum aperture of T1.3 throughout the set. The frontal diameter of these optics is 114mm, except the focal 150mm with 134mm.

The ARRI Zeiss Master Prime T1.3 are high resolution and high contrast optics. No focal length of the game suffers geometric distortion. Throughout their wide focus rotation of 280º they barely breathe. And its delicate lenses are designed with the T * XP coating to reduce and be highly resistant to flares. They are built with (LDS) lens data reading system in order to improve post-production efficiency and share or link data with the camera through the mount.