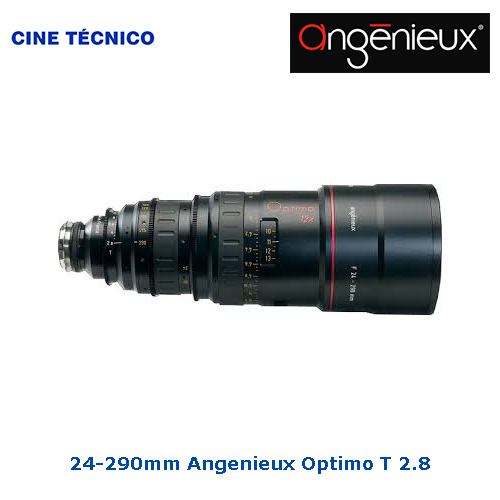 The Angenieux 24-290 mm T 2.8 zoom offers excellent image quality even when it is open.
Its focal range is 12x, where the shortest focal length (24 mm) offers a 49.2º field of view, while the longest has a 4.2º field of view.
Its focus ring is capable of 327º rotation and has a focus scale of 70 marks available in both feet and meters.
Its close focus distance is 1.2 meters or 4 feet.
It also features a robust zoom and focus mechanism that is built with high-tech components made of a lightweight material and with a scratch-resistant layer.
In addition to this, it has internal elements made of first-class glass with correction of aberrations to improve optical performance.
Angénieux 24-290mm Optimo Prime – Features:
PL Mount

Focal length: 24-290mm

Zoom range: 12x

Geometric opening: f2.5

Photometric aperture: T2.8

Minimum distance to the object: 4 '(1.22 m)

Weight: 24.25 lbs. (11 kg)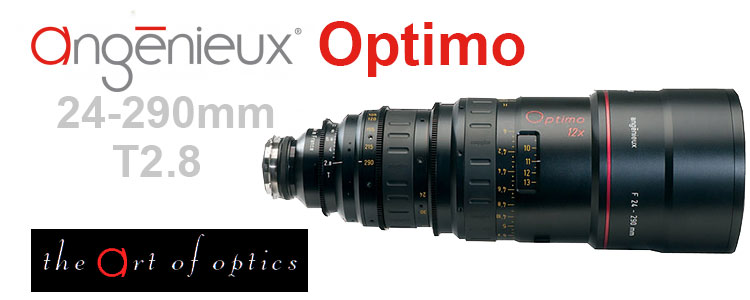 Angénieux 24-290mm Optimo T2.8.
Estableciendo el estándar de la tecnología óptica y el rendimiento, la línea Optimo ofrece una gama de lentes de zoom para satisfacer los requisitos más exigentes. Fabricado con una precisión exquisita, que le ayudan a lograr un look cinematográfico a su producción en cualquier formato. El Angénieux 24-290mm Optimo no tiene rival como zoom de referencia de la industria para todo tipo de producciones desde películas, spots, series de televisión y videoclips hasta grandes eventos deportivos y conciertos.
El zoom Angénieux 24-290mm Optimo ofrece una excelente calidad de imagen desde su máxima apertura de diafragma. Posee un rango focal 12x. Mínima distancia focal de 24mm, con un campo de visión angular de 49.2º y su máxima de 290mm, tiene una visión angular de 4.2º.
Su helicoide de foco puede girar 327º y dispone de 70 marcas precisas que están disponibles tanto en pies (ft) como en metros (m). Su distancia mínima de foco es de 1.20 metros / 4 pies.
Cuenta con un robusto mecanismo de zoom y enfoque. Está construido con componentes mecánicos a base de material ligero con un recubrimiento anti abrasión. Además dispone de corrección de aberraciones y alta tecnología de vidrio correctivo para mejorar el rendimiento óptico