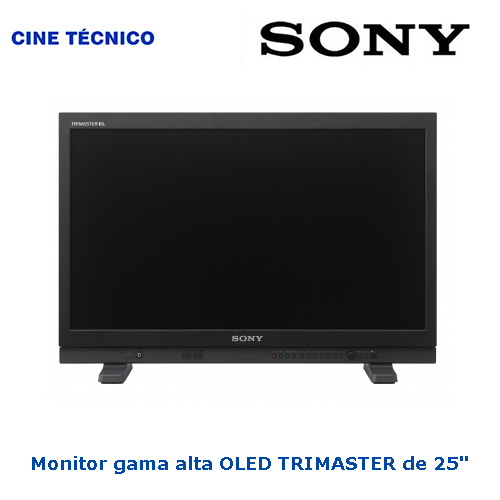 SONY Trimaster OLED 25" Monitor
TRIMASTER EL ™ professional image monitor with a spectacular improvement in viewing angle. The PVM-2541A is an "all-in-one" OLED image monitor that offers unseen image quality and the features and functions that are usually expected from more expensive monitors, all in a compact and elegant design team. The flexibility of mounting options makes this 25 "device an ideal device for non-linear editing, office viewing, studio monitoring panels and mobile units. The color change associated with the viewing angle has been reduced to less than half compared to conventional OLED panels.
It allows several people to evaluate the image at the same time with extraordinary precision, which increases the versatility of the equipment in high-end monitoring solutions.
Features SONY PVM-A250 Monitor Trimaster OLED 25 ":
Ultra bright full HD touch screen.

TapZoom ™.

PIX-Assist ™ Monitoring Tools.

4K recording.

Apple ProRes 4444 XQ, 12-Bit.

Buttons for quick touch control.

Metal chassis

Gorilla® Glass 2.
SONY PVM-A250 Monitor Trimaster OLED 25 "
Excellent image performance
The OLED Super Top Emission panel takes full advantage of TRIMASTER EL ™ technology. It offers impressive black performance, a wide range of colors and a very fast response with hardly any blur. By combining the OLED display panel (Full HD, 10-bit controller) and Sony OLED processing technologies, the PVM-2541A OLED monitor provides revolutionary image quality.
Supports computer signals through HDMI
The PVM-2541A accepts several computer signals of up to 1920 x 1080 through its HDMI connector.