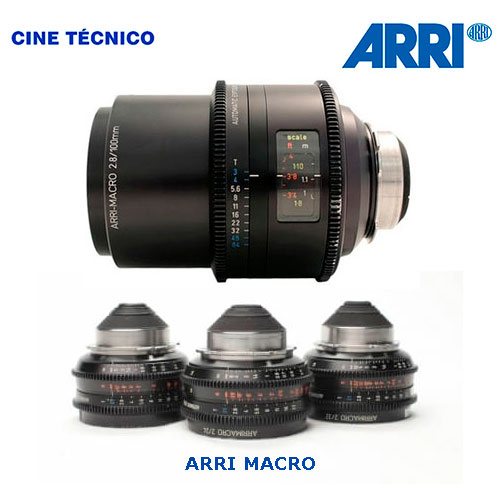 ARRI MACRO SET
The basic set of Arri Master Macro consists of some optics for special planes in which you need to capture an action or object very close to the camera. That is possible thanks to its reduced minimum focusing distance.
SET INCLUDES THE FOLLOWING OPTICS:
– 24mm Macro T-2.1

– 32mm Macro T-2.1

– 50mm Macro T-2.1
OTHER OPTICS AVAILABLE FOR RENT
– 100mm Macro T-3

– 200mm Macro T-4.3
ARRI MACRO Features:
 Focal Range game: 18mm | 152mm

Frame: PL

Opening: T2.3 | S3.7

Focus rotation: 300º

Front diameter: 80mm | 110mm

Sensor Coverage: Super 35
Warm and soft

Without chromatic aberrations

They favor skin colors.
The Arri Macro lens set stands out for its minimum focusing distance ideal for recording actions or objects located near the camera. The minimum focus distance of the game is 0.15m and belongs to the 16mm T2.1. With the exception of 100mm T 2.8 the game has the opening of T2.1.
They also stand out for the system called "Automatic Iris Control". This system consists of an internal mechanism that, in combination with the iris and focus helicoids, maintains the aperture of the diaphragm during the course of the focus ring. This occurs in white diaphragms.
However, there is no automatic iris correction when a blue diaphragm is used. Focusing from infinity to a macro position at maximum aperture results in the diaphragm ring automatically positioning itself in the correct diaphragm. Because of this, Arri warns that systems that block the diaphragm ring (Wireless focus controls) should not be used.


Master Macro 100
For those who want the latest in image quality for desktop cinematography, product shots, foreground inserts in movies or any other application that requires a macro lens, the ARRI Master Macro 100 offers images of stunning beauty.
Designed for the ANSI Super 35 image format, the ARRI Master Macro 100 can be used in any 35mm camera with PL mount and digital camera with single sensor.
With a magnification ratio of 1: 1, a maximum aperture of T2.0 and an optical design developed specifically for macro work, the ARRI Master Macro offers phenomenally sharp and contrasting images with vibrant colors for extreme close-ups of the highest visual quality .