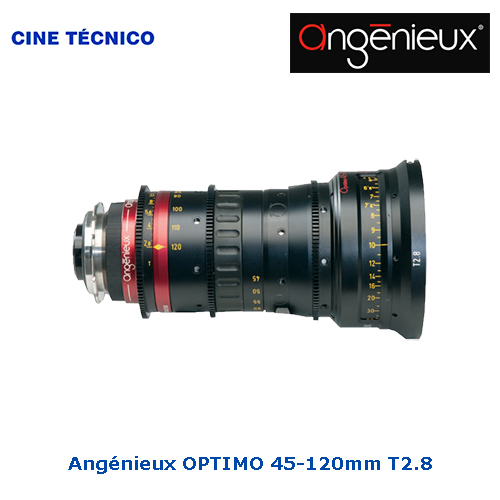 The Angénieux 45-120mm Optimo zoom is a very light lens within the new Angenieux brand market line.
It is an optics that combines agility and quality with the guarantee of being one of the most recognized and used brands in the film industry.
Angénieux Optimo 45-120mm  T2.2 – Features :
PL Mount

Opening: T2.8

Front Diameter: 114mm

Focal Range: 45 – 120mm

Focus ring rotation: 320º

Sensor Coverage: Super 35

Weight: 1.95kg
Angénieux 45-120mm Optimo
This Zoom belongs to the family of Optimo spherical lenses and is characterized by a zoom of a very small size and weight, is within the new line of light zooms of Angenieux.
It covers sensors S35mm (31.4mm diagonal). Both the focus ring, the iris, as well as the zoom, are soft to the touch and are specially designed to make continuous movements with ease. The focus ring covers a rotation of 320º with 50 precise focus marks, whose minimum focus distance is 0.94m.
Homogeneous color, high contrast and resolution are characteristics that stand out from this zoom of the Optimo line.It has an angular field of view of 27.4º in minimum focal length (45mm) and with 10.5º to 120mm.
The manufacturer highlights the performance of the lens when used from T2.8, breathing is minimal, without aberrations and compatible with duplicators of both 1.4x and 2x. The variations of both focal range and aperture with extenders are as follows:
Extend 1.4x (63 – 168mm, T4)
Extend 2x (90 – 240mm, T5.6)
The rear of the optics has an easily interchangeable mount (PL, Canon or Panavision). Its light weight and easy handling make it an ideal zoom for shootings with stabilizers.