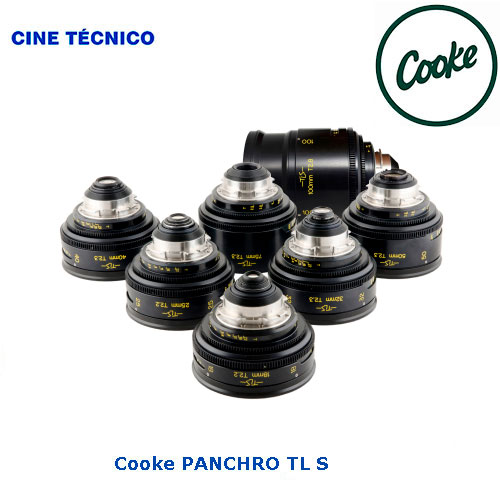 SET Cooke Speed Panchro TL S
The growing demand for vintage Cooke Speed Panchro lenses from the 1920s to 1960s prompted a modern redesign of the vintage classic. We are pleased to present the Cooke PANCHRO lenses, T2.2 to T3.2 Prime. The new Panchro, which is true to the original look of the now legendary Speed Panchro, recreates the same look and feel of the original with the advantage of modern glass mounted for today's cameras. And, the new lenses come equipped with / i Technology to capture digital information frame by frame, just like all modern Cooke cinema lenses for film and digital capture.
This Cooke PANCHRO lenses game offers a soft, low-contrast look like its older sisters the Cooke S4.
SET INCLUDES THE FOLLOWING OPTICS:
– 18mm T-2.3 Cooke Panchro

– 25mm T-2.3 Cooke Panchro

– 32mm T-2.3 Cooke Panchro

– 40mm T-2.3 Cooke Panchro

– 50mm T-2.3 Cooke Panchro

– 75mm T-2.3 Cooke Panchro

– 100mm T-2.8 Cooke Panchro
Features Cooke PANCHRO/i Classic:
Focal Range game: 18mm | 152mm

PL Mount

Opening: T2.3 | S3.7

Focus rotation: 300º

Front diameter: 80mm | 110mm

Sensor Coverage: Super 35

Warm and soft

Without chromatic aberrations

They favor skin colors.
The Speed ​​Panchro set the precedent for future designs and looks of the English house. Characterized by the softness of its images and warm tones, favoring the result of portraits. They offer a reduced contrast with tendency to sparkles and evening. They do not present problems with geometric and chromatic aberrations with quality outside their time.

One of the characteristics that differentiate the old S2 / S3 from the new cooke series is the possibility of working at maximum openings. The Cooke Speed ​​Panchro were designed to work on intermediate T4 diaphragms. It is not recommended to use diaphragms below this aperture due to lack of definition.

Subsequently there have been a variety of rehousing. The most widespread have different front diameters and characteristics. PS Technik (80mm) lighter and more compact or True Lens Services (110mm) similar to the design of the later S4.

Although the Cooke S2 ​​/ S3 were a success. The English house stopped making sets of fixed lenses, and for 30 years it was only dedicated to zoom. In 1998 cooke launches the S4 with chromatic characteristics similar to its predecessors with considerable improvements, without chromatic or spherical aberrations. Designed for best performance in T2 openings.