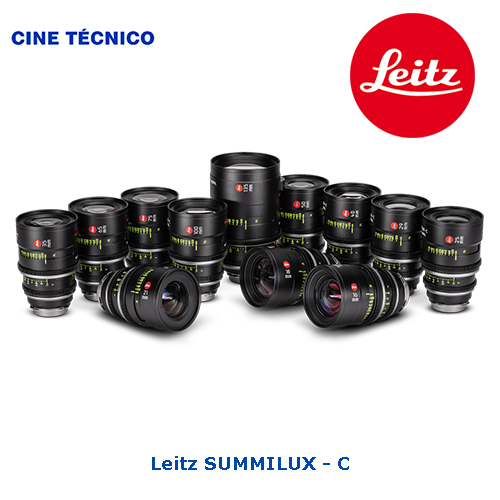 SET Leitz SUMMILUX-C T1.4
Leitz Summilux-C optics are designed to provide maximum performance at a total T-1.4 aperture unlike traditional lenses.
These lenses feature a patented focusing mechanism that avoids the logarithmic focus of the past by expanding the focus scale in the most critical range. This causes the lens size to be smaller than other 35mm lenses designed to have a larger focus ring. Its unique design allows these cinema lenses to be much smaller than existing lenses below T2.0. Only 142 mm long and weighing between 1'6-1'8 kg, the lens changes are easier and safer than ever.
SET INCLUDES THE FOLLOWING OPTICS:
– 18mm Summilux-C T1.4

– 25mm Summilux-C T1.4

– 35mm Summilux-C T1.4

– 40mm Summilux-C T1.4

– 50mm Summilux-C T1.4

– 75mm Summilux-C T1.4
OTHER OPTICS AVAILABLE FOR RENT:
– 65mm Summilux-C T1.4

– 100mm Summilux-C T1.4

– 135mm Summilux-C T1.4
Features Leitz Summilux:
Focal range set: 16mm | 135mm

Mount: PL

Opening: T1.4 | T16.-T22

Focus rotation: 300º

Front Diameter: 95mm

Sensor Coverage: Super 35 (33mm Diagonal)

Weight: 0.91kg | 3.4kgg
With a maximum aperture of T1.4, this Leitz lens set is among the brightest in the film industry. In contrast to other games, the Leitz Summilux are specially prepared to offer their best optical performance at maximum aperture.
For the construction of these optics, a series of high quality elements and processes are used in order to generate high optical performance. In this way the so-called "exotic crystals" are used, which have a low refractive index and various coatings that determine the sharpness and color of the image. They also have a patented mechanism that provides 300º of rotation of the focus ring.
It is a series of lenses that have a small size and a reduced weight. With the exception of 135mm (193mm in length, 116mm in front diameter and 3.4kg) all lenses are 142mm long, have a front diameter of 95mm and weigh between 1.6kg and 1.8kg.
LEITZ SUMMILUX LENSES HIGHLIGHT FOR YOUR SHARPNESS
Normally the optical games are either crisp or soft. Leica highlights the sharpness of the contours and the smoothness of the textures in this optical game: what they define as "creamy sharpness". The use of aspherical elements in the design of these optics creates a telecentric path of light through the groups of internal lenses. This fact not only reduces chromatic aberrations generating a true color to reality, but also generates an image with a constant luminance throughout the picture.