Rent Atomos Samurai Blade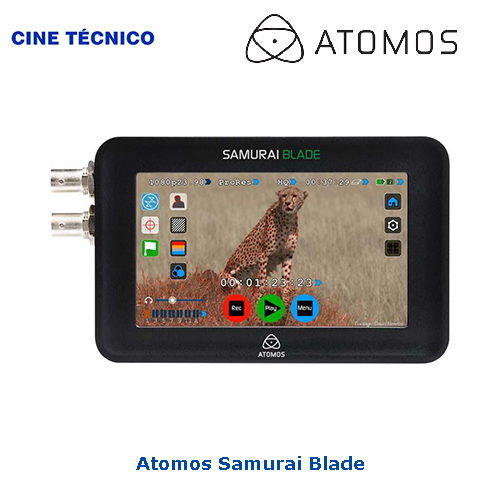 The new Samurai Blade offers an impressive IPS touch screen of 1280 x 720 pixels resolution at 325 dpi, with 179º viewing angle, 400 nit brightness and multi-frequency operation (48/50/60 Hz) depending on the video input , giving a super smooth monitoring and reproduction. An optional sun visor is available for outdoor shots in intense sunshine.The capacitive touch panel has a very fast response time and gestural capacity. The AtomOS 5.0 that controls the Samurai Blade works smoothly like silk.
Samurai Blade provides you with all the essential tools you need to precisely adjust the colors and exposure of your "on-site" shots including waveform monitor and vectoscope functions, in an intuitive transparent interface that you can view in full screen, positioned in the lower third or in the lower right corner giving you various options depending on whether you are adjusting, recording or viewing the shots.
Features Atomos Shogun 7 HDR :
Display: 5 ″ IPS touch

Resolution: 1280 x 720 325 dpi 48/60 Hz

Input: HDMI (1.4)

Output: HDMI (1.4)

Input and output signal without compression: 4: 2: 2 10 / 8bits

Measures: 153x87x48mm

Weight: 696g (With batteries and SSD)

Supported formats: 1080i60, 1080i59.94, 1080i50, 1080p30, 1080p25, 1080p24, 1080p23.98, 1080pSF23.98, 1080pSF24, 1080pSF25, 1080pSF30, 720p60, 720p59.94, 720p50, SD 480i, 576i

Audio input and output: 2 channels 48kHz
Rent Atomos Samurai Blade
El Atomos Samurai Blade es el más avanzado grabador, monitor y reproductor de producción inteligente por HD-SDI. Cada parte de su diseño físico y operacional ha sido diseñado para ofrecer la última experiencia en sencillez de manejo y fiabilidad. El Samurai Blade combina múltiples dispositivos – monitor externo, tarjeta de captura, reproductor de medios y suite de edición al corte – en una única herramienta asequible . Lo suficientemente ligero, resistente y robusto para funcionar en el campo.

QUALITY 10-BIT 4: 2: 2
Why record 10-bit from the sensor of a camera, if it is 8-bit? … Well, if you want to edit, use CG or 3D effects, chroma or add titles and transitions, you will use 12-bit or more. If you record 8-bit like most cameras, when 12-bit or more graphics are inserted into the timeline, the colors will "break" down to 8-bit, resulting in extremely poor quality. Samurai Blade skips the 8-bit limit and records 10-bit video ensuring that your video remains with the highest quality during the post-production process.

THE BEST FRIEND OF YOUR CAMERA
Samurai Blade allows you to take advantage of the current sensors and lenses of the leading brands of professional video cameras and DSLRs such as Canon, Sony, Nikon, Panasonic, JVC, Red or Arri.
HDMI-based cameras simply need an Atomos Connect to convert HDMI to HD-SDI.
The operating system is fully customized and we give you everything you need to work – AC power, battery and charger, USB 3.0 HDD / SSD docking station compatible with USB 2.0.
COMPLETELY CUSTOMIZED
Each circuit has been designed and coded in each Samurai Blade, investing thousands of hours in testing, quality control, design and manufacturing. No standard cores such as codecs or leased HDMI / SDI interfaces have been purchased – everything has been written from scratch to offer a video machine that is a true thoroughbred precisely tuned.
INCREDIBLY LOW CONSUMPTION
With only 6W of power consumption – which is almost five times less than the closest competitor – the Samurai Blade is perfect for battery-powered field operation. With at least 4 power options, including the NP series battery provided, continuous power adapter for larger batteries, AC power and a dual battery power system that offers continuous power. You will never run out of energy when you need it most.
HDD o SDD de 2.5″ AFFORDABLE
2.5 "hard drives are the most affordable portable digital storage on the planet. They outperform SSD drives, SD cards, SxS and P2 in terms of cost and reliability for video applications. In normal video recording environments the 2.5 "hard drive will be your new tape. The operating costs are thus extremely low, the recording times incredibly long (up to 30 hours) and the supply is easy to achieve. For those vibration-sensitive recording environments it also supports modern SSD solid state drives.

ATOM OS5
Like our hardware, the operating system used in Atomos products is intelligent. It is fast, robust and easy to handle. It covers all aspects of video production, from recording to playback and review, monitoring assistants and even helps editing by cutting and labeling shots. Atomos gives the flexibility to offer regular operating functionality improvements and improvements to existing users. For example, the new AtomOS 5 supports alpha channel and transparency, offers overlay on waveform monitor and vectoscope with zoom (Atomos 5 is only available in Samurai Blade and Ninja Blade).
RECORD DIRECT FROM THE SENSOR
The Samurai Blade records directly from the sensor offering you the best quality of your camera and lens, regardless of when it was made. Both new and old cameras can benefit from higher quality recording, improving new cameras or giving new life to old ones.
SYNCHRONIZED RECORDING ACTIVATION AND TIME CODE
Recording activation and timecode capture in sync with your camera is essential for trouble-free production with external devices. Atomos has worked side by side with leading camera manufacturers, including Sony, Canon, Panasonic, Nikon, JVC, RED and Arri to provide accurate time code recording and activation and recording stop over SDI and HDMI from virtually any camera. They have also added Tally indicator light.
Samurai Blade includes activation by LANC control and time code for those cameras that do not have built-in start / stop signal sending protocols – monitoring the time code and activating the recording when the camera starts working.