GF-8 Crane Grip Factory Munich
The GF-8 CRANE SYSTEM is an industry standard in modular rideable and remote cranes. It's versatile, durable and provides unmatched ease of movement and steady crane moves. The simple rigging assembly and fast set up make the GF-8 extremely popular. By adding the Xten Kit, the standard GF-8 crane can be extended to a GF-8 Xten Crane providing extra height and lift range.
The GF-8 Camera crane system is a marvel of German engineering and an industry standard for fixed arms in modular ridable and remote cranes. Its versatile, durable and provides smooth crane moves in tight confined locations.
It's a very popular crane with a simple rigging system enables a quick set up in 1 ft increments to maximum reach 30ft with a light remote system and camera of 110 lbs.
Comes apart quickly to get through narrow openings and change required lengths and can be used as a doorway dolly with column removed.
Has double ended steering base with a 2 ft wide tracking width, it's the same as a regular Fisher or Chapman dolly.
The GF-8 comes with pivot section Mitchell adapter able to be mounted to a dolly arm or center mount kit for Fisher or Chapman Dollies.
It has a split bucket for the shorter lengths.
Has the capacity for the operator to ride at various lengths and can adapt for a Steadicam walk-off up to 17ft at foot height.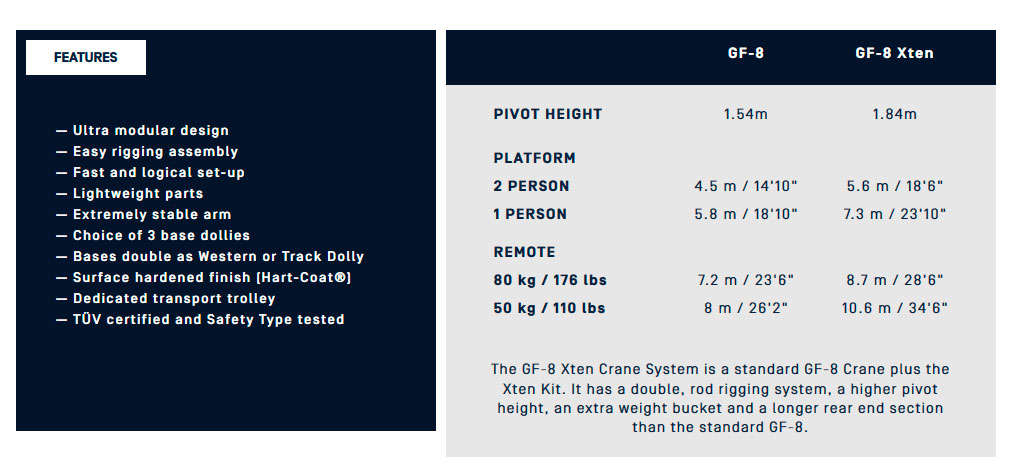 Dolly / Crane Mini GF-8
– Operated from the rear of the dolly. In this mode the front wheels are steered allowing a minimum circular movement of 258cm / 9′ 4″ inside diameter.
– 4 wheel inverted: All 4 wheels can be turned together giving a "roundy round" steering effect
– Rear 2 wheel: In this mode the rear wheels are steered from the rear of the dolly.