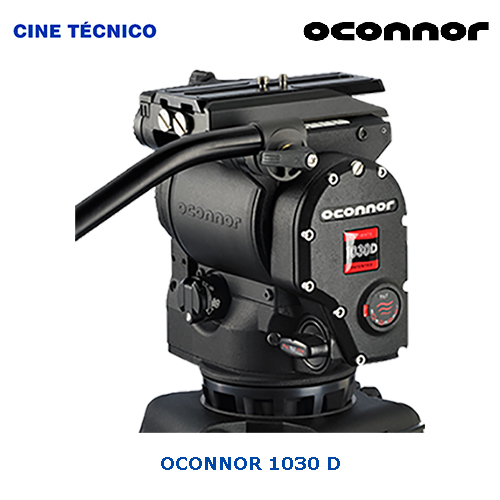 The Ultimate 1030D and 1030Ds fluid heads offer a wealth of features that have been borrowed from the larger OConnor 2575 and 2065 heads to let cinematographers seamlessly transition from heavier to lighter payload camera setups.
These include the stepless, ultra-smooth pan and tilt fluid drag specifically enhanced to provide ultimate control and stability, as well as the patented OConnor Sinusoidal Counterbalance system that provides true, accurate balance at any point in the tilt range.  Users will appreciate that the system counterbalances down to zero, a handy advantage considering the trend to lighter weight cameras.
OCONNOR 1030 Fluid Head:
Weight: 3.9 KG

Maximum Payload: 17.7 KG

Maximum Height: 157 CM

Minimum Height: 56 CM
The new ergonomic crank-style counterbalance control simply pulls out of the rear of the head. Plus the Action Brakes for pan and tilt unlock through a single-handed squeeze. And the new sideload platform enables rapid attachment of the camera as well as an extended range of movement for balancing front heavy setups.
For today's versatile shooter, the transition from larger to smaller payloads has never been easier. And most importantly, the famous OConnor feel, remains the same regardless of payload.
The OConnor 1030D supports a payload up to 30 lbs. (13.6 kg) at a 6" (15cm) center of gravity and a +/-90° tilt range. The 1030Ds supports heavier payloads up to 41 lbs. (18.6 kg) at 6" (15cm) COG with a +/- 60° tilt range.
Like the rest of the OConnor Ultimate heads, the 1030D and 1030Ds have interchangeable bases (e.g. 150mm or Mitchell for the 1030), accept the same front box mount as larger heads and offer full compatibility with other OConnor 1030 accessories. OConnor's new 30L carbon fiber tripod system offers an expanded payload range in a lighter weight package which makes it the perfect companion for the 1030D and 1030Ds.
También conserva la famosa sensación OConnor que se encuentra en las cabezas como la 2575D y, en consecuencia, se recomienda para tomas de estilo cinematográfico con cámaras más pequeñas y compactas.
Los usuarios de los cabezales de fluido OConnor más grandes también apreciarán el sistema Mini Euro Quick Release de estilo cine instalado en el trípode 1030D que permite una carga rápida y segura de la cámara.
Las patas de trípode livianas de dos etapas con un accesorio de tazón de 100 mm y un separador de nivel medio completan nuestro paquete de soporte 1030D.