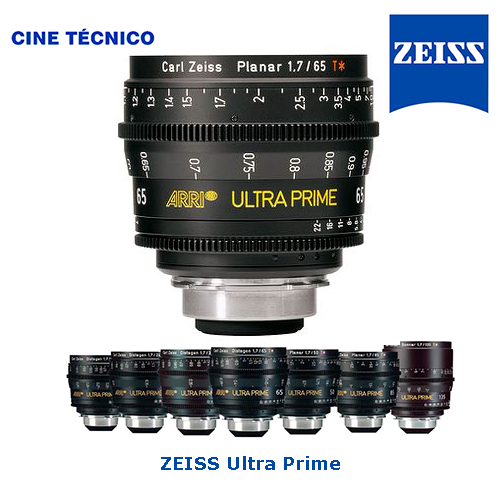 Highest performance over the entire focusing range.
ARRI / ZEISS Ultra Prime Lenses have the widest focal range of prime lenses giving you the flexibility to get the coverage you want. The Ultra Prime lenses are lightweight standard speed lenses that are a perfect optical match to the high speed ARRI / ZEISS Master Prime lenses. They have been developed in a cooperation of ARRI and ZEISS.
Well controlled distortion and breathing

Superior close focus ability

Floating elements design

Easy-to-read calibrated scales

Uniform diameters

Particularly robust and easy to service
THE SET INCLUDES THE FOLLOWING OPTICS
– 16mm Ultra Prime T 1.9

– 24mm Ultra Prime T 1.9

– 32mm Ultra Prime T 1.9

– 40mm Ultra Prime T 1.9

– 50mm Ultra Prime T 1.9

– 85mm Ultra Prime T 1.9
OTHER OPTICS AVAILABLE FOR RENT
– 10mm Ultra Prime T 1.9

– 12mm Ultra Prime T 1.9

– 14mm Ultra Prime T 1.9

– 20mm Ultra Prime T 1.9

– 28mm Ultra Prime T 1.9

– 65mm Ultra Prime T 1.9

– 100mm Ultra Prime T 1.9

– 135mm Ultra Prime T 1.9

– 180mm Ultra Prime T 2
ARRI ZEISS Ultra Prime Features:
Focal Range game: 12mm |

180mm

Mount: PL

Opening: S1.9

Front diameter: 95mm |

114mm |

156mm

Focus ring rotation: 270º

Image coverage: S35mm |

5k
This new design of the German lens house improves defects of its predecessors such as sharpness, contractions or chromatic and spherical aberrations to maximum openings. The color and response between focal points is perfect. They have high sharpness, it is difficult to differentiate them from the Master Prime series, very similar in aesthetics and features but with T1.3 diaphragm.

Another difference with its predecessors is the greater number of focal points. The Zeiss Ultra Prime T1.9 lens set consists of 13 focal points ranging from 12mm to 180mm with weights between 1kg and 2.6kg. With front diameter of 95mm throughout the game, except for angular and telephoto lenses.

They are all-terrain optics, widely used in advertising and fiction.