THE CHOICE OF THE IMAGE FILTER WORLDWIDE
The use of optical filters is of high importance, now that it is recorded with digital cameras, since they save time and frustration in postproduction by eliminating "in situ" the uncertainty, and immediately seeing the desired effect, not hours or days later than any take.
Apart from protecting the lenses from dirt, scratches and other damages that may be caused, optical correction is available in a known standard, leaving more latitude for the digital effects used later.
Optical filters are simply unsurpassed when it comes to controlling color balance and special effects with precision, repeatability and convenience.
In CINEMA TÉCNICO we work with the best manufacturers of recognized prestige such as TIFFEN and SCHNEIDER and we have filters in 4×4, 4×5.65, 6×6 and circular sizes of different sizes.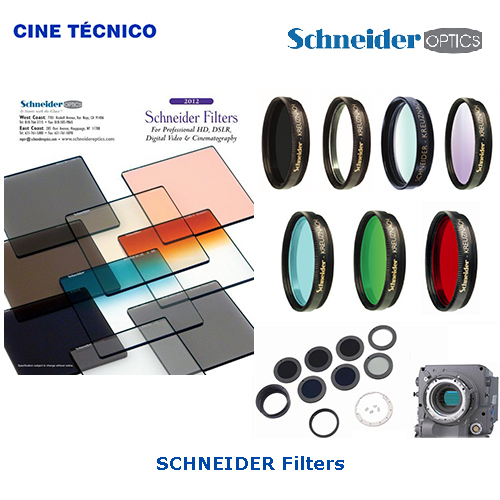 Our motion picture television filters can provide optical solutions for technical problems related to exposure, dynamic range, depth of field, color and saturation, reflection control and many other image problems.
Schneider-Kreuznach offers the following technical filters: RHOdium Full Spectrum Neutral Density, Neutral Density, True-Pol Polarizer, Clear and UV, True-Cut IR, LowCon 2000 and DigiCon, Quarter-Wave Retarder
Types of Filters:
POLARIZING FILTERS

NEUTRAL FILTERS

IR NEUTRAL FILTERS

DEGRADED FILTERS

COLOR CORRECTORS FILTERS

ENHANCING FILTERS

COLOR FILTERS

DIFFUSER FILTERS

CONTRAST FILTERS

FOG FILTERS

CLEAR FILTERS

HAZE FILTERS

APPROXIMATION FILTERS

PROXIMACIÓN
4X4 Filters

 4 X 4×5,6 Filters


Rotating Polarizer Frame 4×4

Filters Serie 9

85, 85N3, 85N6, 85N9, 85B, 81EF, 85C, 80A,etc

85/Polarizer

Polarizer Linear, circular, ultrapolar

True-Polar linear, circular schneider

LL-D, FL-B,FL-D

Coral, Sepia, Chocolate, Straw, Streak etc

Neutral density 0.3, 0.6, 0.9, 1.2, 1.5, 1.8, 2.1

IR combined ND 0.3 to 2.1

Enhancing filter

Hace

Day for night
Low contrast, fog

Promist standard, black, warm

Gold diffusion FX

Soft fx

Classic soft, warm schneider

Grad ND 0.3, 0.6, 0.9

Color Grad Blue, Coral, Cyan, Magenta

Green, pink, red, yellow, tobacco, sunset, etc

Star and streak filter

Black & white filters

Filters serie 9