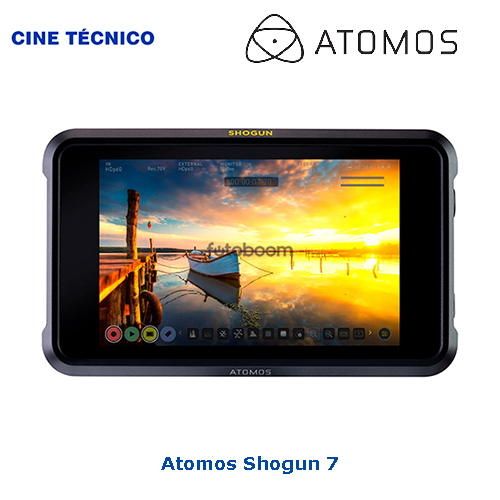 Atomos Shogun 7 "HDR recorder monitor
Atomos Shogun 7 is a precision HDR monitor-recorder-switcher designed for the film and video professional. It can be used as either a stand-alone field monitor, recorder and switcher for event, documentary and live in-the-field storytelling; or as a tool for large-scale on-set episodic TV, film and cinema productions where multiple crew members such as focus pullers, grips and cinematographers require a consistent visual reference across the field monitor ecosystem. Shogun 7's portable size lets you monitor, analyze and tag while on set; and check how your content will look in your audience's home via real-time Dolby Vision output. With Shogun 7 you're not locked into any format, camera manufacturer or pipeline. It is a completely flexible master recording and production station.
Atomos Shogun 7 HDR – Features :
1500nit screen that incorporates zone technology with a contrast ratio of 1,000,000: 1 and more than 15 stops of dynamic range.

4K real-time recording in formats including ProRes RAW.

New Dolby Vision HDR real-time output.

New Dynamic AtomHDR display system.

Portable Multi-cam up to HDp60 SDI ISOs x 4 recording.

Real-time change between 4 live asynchronous transmissions.

Capture RAW from your favorite movie camera.
Atomos10 touch screen interface, first seen in the award-winning Ninja V and redesigned body.

Atomos Shogun 7 HDR Monitor-Recorder-Switcher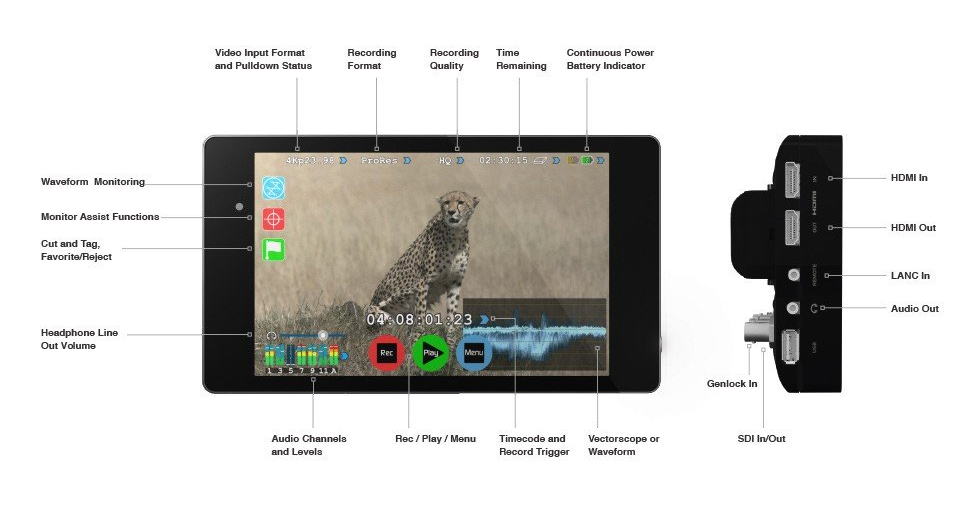 Technical specifications and characteristics of the Atomos Shogun 7
The Atomos Shogun 7 is one of the most powerful external recorders on the market. Here are some of the highlights:
Accepts RAW signals and records them in ProRes RAW, ProRes, CinemaDNG and Avid DNxHD.

Recording up to 5.7K at 30 fps, 4K at 120fps and 2K at 240fps.

4: 2: 2 to 10 bit color sampling available on ProRes and DNxHD up to 4K DCI at 60 fps and 2K at 240 fps.

Four dual 6G / 3G-SDI or 12G-SDI inputs, two 4K-SDI 12G or HD-SDI 3G / 6G outputs.

An HDMI 2.0 input and an HDMI 2.0 output with HDMI-SDI cross conversion.

Optional audio break cable available for XLR audio input, with phantom power. In addition, there is a 3.5mm mini-plug output.

It is powered by Sony L-series batteries. Two compartments allow hot swapping for continuous feeding.

Record on 2.5 "SSD / HDD drives. These can be authorized SATA SSD drives, using the included Master Caddy II or AtomX SSDmini drives.

Four ARRI anti-rotation mounting points up and down for safe mounting.
If you are generating HDR content, the Shogun 7 boasts of playing more than 15 dynamic range stops. In addition – unlike the Shogun Inferno – it comes with a new 1920 × 1280 7 ″ screen, with Direct LED 360 backlighting. The monitor must be visible in daylight with a contrast ratio of 1,000,000: 1, a brightness of 1500 nits and 10-bit processing (8 + 2 FRC).
In addition, the Atomos Shogun 7 is now capable of making multi-camera recordings, such as the Convergent Design Apollo, with Quad-ISO camera recording. You can record up to four 1080 / 60p inputs separately, as well as the main program output. You can use the touch screen to switch between the different cameras and select the input, which is recorded as cut-off points marked in the XML metadata. There is a Genlock input / output to integrate perfectly in any configuration.