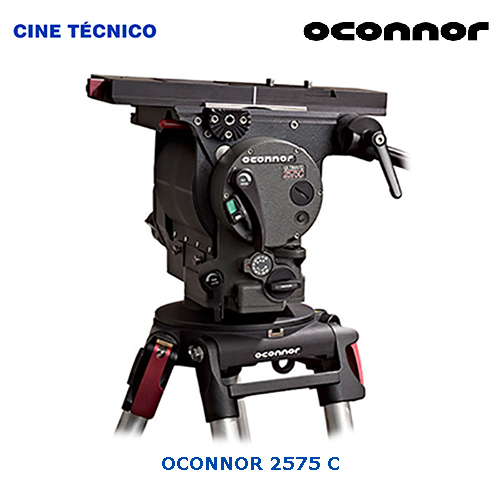 With its famous features the 2575 has become the standard for 35mm film cameras. Featuring OConnor's patented sinusoidal counterbalance system for true, accurate balance at any point in the tilt range. Add to this OConnor's stepless, ultra-smooth pan & tilt fluid drag, and you've got the best of all possible combinations.
As the next generation head of the highly successful 2575 series, the 2575 "D" retains a large number of features and functions from the popular "C" head but includes many new features:

•    The new platform has all the controls on the camera operator's side of the head. (i.e. left side).
•    The platform release lever has a one touch finger actuated safety release catch. This allows for one "finger"                                  or hand action to undo the safety catch and open the lever.
•    Dual platform scales.
•    The platform now has 4 handle rosettes.
•    The left side has a "soft" hand rest similar to the 120EX.
•    The head is now black.
•    The head uses metric fasteners. This includes the set screws that are used for field adjustments.
Features OCONNOR 2575 C

Counter Balance Range: 0 to 133 lbs (0 to 60.5kg)
Center of Gravity: 4.0 to 8.0″ (10.2 to 20.3 cm)
Quick Release/Wedge Plate: 120mm Euro Plate

Arri Dovetail Plate.

Balance Plate: Yes, Sliding
Tilt Drag: Continuously variable fluid drag
Tilt Range: +90 to -90°

Tilt Lock Caliper brake

Spring Loaded Counter Balance

Continuously variable fluid drag

Pan Range 360°

Pan Lock Caliper brake

Leveling Bubble/Illuminated: Yes, Illuminated
Temperature Range: -40 to 140°F (-40 to 60°C)
Height: 8.4″ (21.3cm)
Weight: 22.9 lbs (10.4kg)