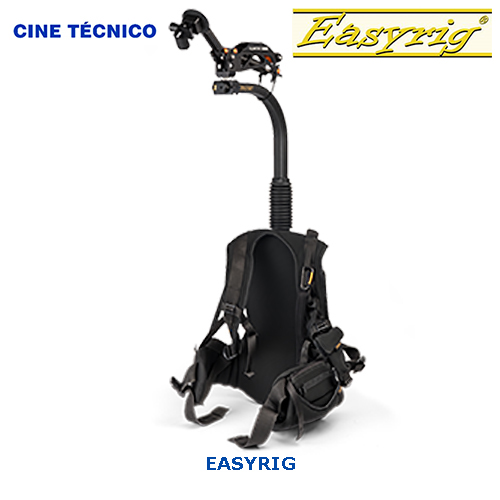 The EASYRIG portable camera stand is ergonomically designed and reduces static load on the neck and shoulder muscles, and transfers it to the hips, the part of the body best designed to deal with it.
This is the original Easyrig model with the patented Easyrig system, which is specially designed for professional photographers working with portable equipment. Easyrig 2.5 can be used with video cameras and medium-weight film.
Easyrig 2.5 offers you the advantages of a handheld camera and a camera mounted on a tripod; that is, with the speed and mobility of the handheld camera, you can still achieve stable images.
His back and shoulders are relieved as the load is redistributed to the hips: Easyrig 2.5 helps you focus on the actual filming. You will not suffer a strain on your back or shoulders as you would with a normal manual shot and may work for longer periods.
Breathable fabric and soft ventilated padding will make your filming with Easyrig 2.5 comfortable and enjoyable.
Easyrig 2.5 is designed and manufactured in Sweden and has been ergonomically tested with optimal results.
Once you have finished with your Easyrig 2.5, simply fold it and put it in the specifically modified gas bag in which your Easyrig is delivered.
Easyrig 2.5 will be your best tool when working on sporting events, documentaries or news, yes, on any occasion when a handheld camera is required.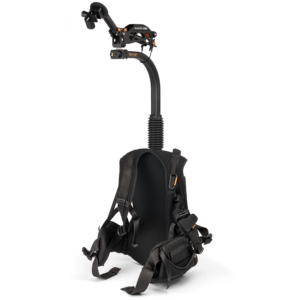 Flowcine Serene Arm
The Serene is a two axis spring arm that attaches at the end of the Easyrig arm. It stabilises vibrations and motion errors on the vertical axis that comes from walking or running with the rig. It also stabilises side to side errors in the same scenarios by counter pivoting around it's center axis. At the same time you have full use of the Easyrig cord extension that will allow you to go from high to low mode while at the same time the Serene will take care of the vertical and side to side stabilisation adding two more stabilised axis to your existing system.
INCLUDED WITH HIRE:
1x Flowcine Serene Arm

1x Karabiner & Safety Chain

1x Velcro Side Pouch

1x Transport Bag