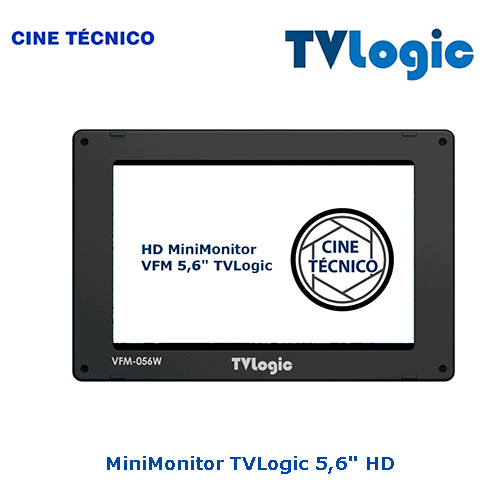 TVLOGIC 5,6 " VFM-056 MiniMonitor
The VFM-056WP is a monitor / viewfinder specially designed for use with HDSLR cameras and professional camcorders.
It uses a 5.6 "LCD panel with resolution of 1280×800, wide viewing angle of 170 degrees and a brightness of 300cd / m2. The VFM-056WP guarantees the best usability for indoor and outdoor shooting with HDSLR cameras and camcorders. Its revolutionary Ergonomic design, with robust and lightweight magnesium housing allows maximum heat evacuation.
Features TVLOGIC 5,6 " VFM-056 MiniMonitor:
Image format: 5.6 "16: 9/4: 3

Aspect: 16: 9

Standard color: HD / PAL / NTSC

Resolution: 1920 x 1080 pixels

Video inputs: 3G, HDSDI, SDI, HDMI, Components,

S-Video and Composite

Power: 12vdc

Dimensions: 16x10x27cm

Weight: 0.3Kg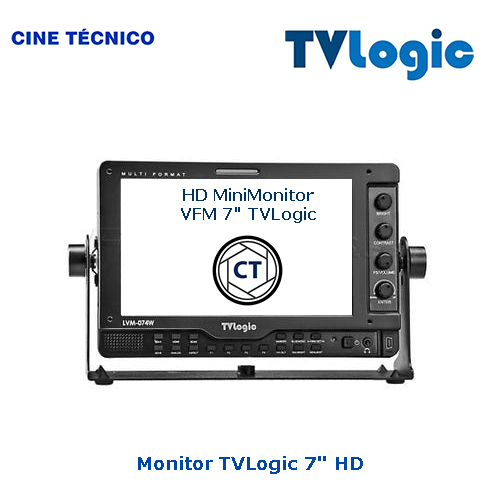 The TVLogic 7 "HD Monitor is a 7-inch (1920×1080) Full HD field resolution production monitor with an ultra high luminance of 3,600nit. The F-7H provides cross conversion SDI <-> HDMI with 1 SDI input, 1 SDI output, 1 HDMI input and 1 HDMI output interface It is also compatible with all professional functions, such as waveform and vectorscope, level metersde audio, asistencia de enfoque, error de rango, visualización de código de tiempo, varios formatos y fabricantes, importación 3D LUT, registros de cámara y emulación HDR, incluidos HDR EOTF de PQ, HLG y SLog3.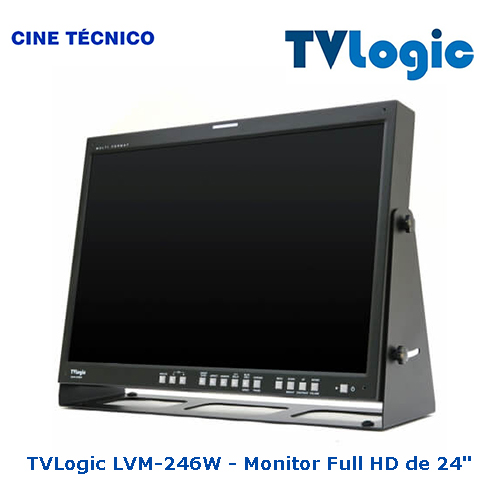 TVLogic LVM-246W - Monitor Full HD de 24"
The Logic LUM-240G TV monitor is a 24 "monitor that offers a 4K resolution (3840 x 2160 pixels) compatible with various video formats and with 12G, 6G, 3G, HD-SDI and HDMI 2.0 connections. It provides a high range of colors spanning up to DCI and includes 3D compatibility and a full set of features.
Características TVLogic LVM-246W – Monitor broadcast Full HD de 24″:
Size: 23.8 "(527 x 296 mm)

Resolution: 3840 x 2160

Space between pixels: 0.137 mm

Color Depth: 1.07 B

Viewing angle: 178º

Contrast Ratio: 1000: 1

Luminance: 350 cd / m2

DC Voltage: 24v

Minimum AC voltage: 100 v

Maximum AC voltage: 240 v

Audio output: analog stereo (mini jack)
TVLOGIC 5,6 " VFM-056 MiniMonitor
Features:
DSLR scaling function. Scales the low resolution input signal of the DSLR cameras to fit the full screen of the VFM-056WP. DSLR scaling is optimized for Canon 5DMK2, 7D and Nikon D7000 that can display various resolutions for preview, recording and playback.
The Focus Assist function helps the camera operator to easily find the exact area in the image with a good focus, simply by adding colors in the shape or edges of the object in a honeycomb. Monochrome background mode is added to achieve optimal focus control.
The VFM-056WP has several scanning modes: Zero Scan, Over-Scan, Pixel to Pixel, User Pixel Aspect to Pixel Mode. Pixel to Pixel mode shows the original resolution of the image without scaling, to match a certain resolution or aspect ratio.
Adaptive color temperature An internal sensor measures the temperature inside the VFM-056WP and compensates for white balance drift caused by a cold or hot environment. This function is useful for taking pictures with different weather conditions.
The VFM-056WP has mounting holes on the top, bottom, right and left, to allow more convenient mounting near the camera.
HDMI-to-SDI converted output. When the HDMI-to-SDI converted output function is activated, the HDMI input signal is converted to 720p and is output through the SDI connector. This function is of great help to camera teams to coordinate seeing the same image on 2 monitors.
Waveform / Vectorscope. Displays the Luma (Y) and Vectorscope (BY, RY or XY axis) signal in Y / Cb / Cr, Panorama mode and line. Waveform and Vectorscope can be enlarged twice.
The VFM-056WP can analyze the luminance (Y) and chroma (Cr / Cb) levels of the input signal and warn the user with blinking pixels where the video signal exceeds the maximum or is below the minimum of the designated range. This helps the user optimize the camera's exposure setting.
TVLogic LVM-246W - Monitor broadcast Full HD 24"
Features:
This high-end monitor is designed for 4k film productions offering the most advanced features of the film industry.

The LUM-240G has four BNC input connectors and four BNCs output and also has an HDMI input. It also has the resolution, color and refresh rate required to satisfy the 4K DCI workflow.

Its LCD panel has a native resolution of 3840 x 2160, a 10-bit processing speed and a wide range of colors to reproduce DCI, Rec.708 and other color standards.

The screen refresh rate can be adjusted to 48Hz, 50Hz and 60Hz without the need to process the signal.