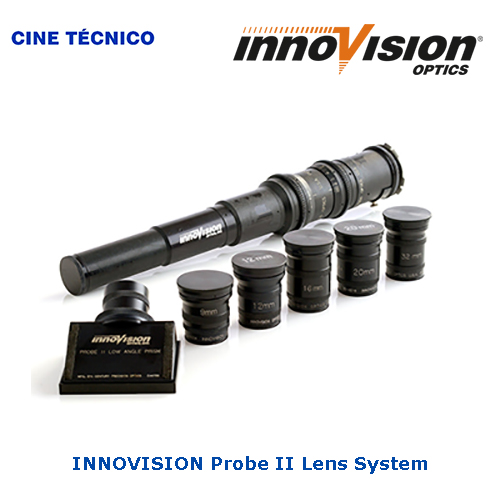 SET INNOVISION Probe II Lens System
La lente tubular de InnoVision, la Probe II Plus ofrece una óptica superior y transmisión de luz para una resolución ultra alta, mientras que el accesorio de periscopio único del sistema permite a los operadores disparar desde una perspectiva ultra baja. Completamente resistente al agua, Probe II Plus es ideal para películas y cámaras digitales. El Probe II Plus presenta elementos de vidrio de alta resolución y ópticas de retransmisión, para imágenes con notable nitidez de borde a borde, campo plano y profundidad de campo extrema. Los recubrimientos múltiples de última generación proporcionan imágenes nítidas y de baja dispersión.
Distancia focal:– T 5.6
El SET INCLUYE LAS SIGUIENTES ÓPTICAS:
– 9mm

– 12mm

– 16mm

– 20mm

– 40mm
Key Specifications
Speed:

35mm – T5.6, Video/16mm – T2.8

Barrel Diameter:

1.7″ (43.2mm)

Length:

35mm – 18″ (46cm), Video/16mm – 16″ (41cm)

Weight:

3.5 lbs. (1.6kg)

Housing:

Constructed of aircraft aluminum with durable black anodized exterior.

Optional Accessories:

Remote focus control, an assortment of 40.5mm filters,Camera mounts for all common cameras, shipping cases.
Innovision's tubular lens offers superior optics and light transmission for ultra-high resolution, while the system's unique periscope attachment lets operators shoot from an ultra-low perspective. The Probe II-Plus is available in interchangeable Straight 45˚ and 90˚ Periscope attachments.

The Probe II-Plus features high resolution glass elements and relay optics – for images with remarkable edge-to-edge sharpness, flat field, and extreme depth-of-field. State-of-the-art multiple coatings provide sharp, low dispersion images.

The Probe II Plus is available with a variety of standard resolution focal lengths including 9mm, 12mm, 16mm, 20mm and 32mm or with High Resolution focal lengths of 12mm, 20mm, 28mm, 40mm and 55mm.