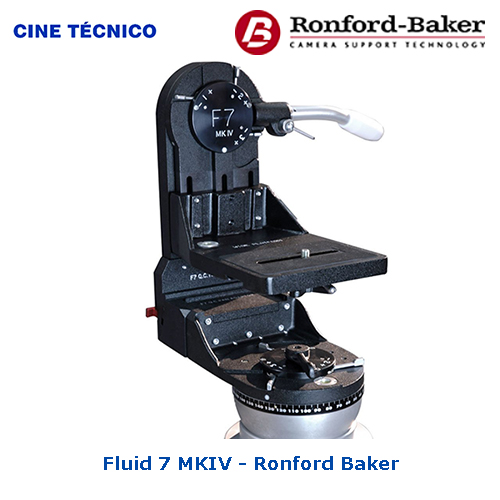 El cabezal Ronford-Baker F7 Fluid Head  está diseñado para usarse con cámaras de película o video / EFP.
Sus dos unidades de fluido selladas permiten variar el control en siete etapas, desde un movimiento libre amortiguado hasta el control más pesado requerido, mediante el uso de tres simples palancas de encendido / apagado.
Ambas acciones de giro e inclinación son continuas hasta 360 º, dependiendo de la longitud del objetivo y la cámara.
Se puede suministrar con una variedad de anchos de plataforma, bloques espaciadores de cambio rápido y placas elevadoras como se ilustra.
La plataforma es ajustable en altura para adaptarse al centro de gravedad de la cámara en uso.
Una segunda barra panorámica de la plataforma, con ajuste de trinquete para adaptarse a la altura requerida.
Características Ronford-Baker F7 Fluid Head

Operation temperature range
+150ºF to -40ºF (+60ºC to -40ºC)
Weight: 17lb 14oz (8kg) standard
standardFluid cushioned free head.

Sealed fluid system gives seven degrees of control in both pan and tilt.

Smooth accurate braking on pan and tilt.

Recessed circular spirit levels.

360º scale on pan.




150mm or Mitchell base, other fittings can be supplied on request.

Double taper roller bearings throughout.

Camera screw and platform adjust for vertical and horizontal balance.

Second pan bar available.